Shinchou Yuusha: Kono Yuusha ga Ore TUEEE Kuse ni Shinchou Sugiru (First Impression)
---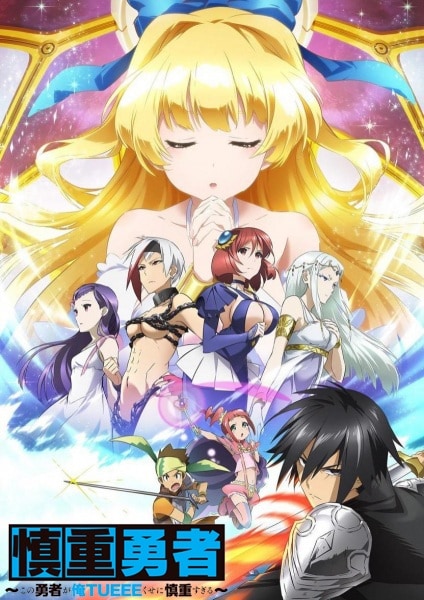 Studios:

 White Fox

Source:

 Light novel

Genres:

 Action, Adventure, Comedy, Fantasy
Synopsis: "Goddess Ristarte, the savior of the super hard-mode world Gairbrunde, summons a hero to her aid. The hero, Seiya Ryuuguuin, holds the cheat-rank status, but he is ridiculously cautious. For instance, he would buy three sets of armor: one to wear, a spare, and a spare for the spare. Beyond keeping an absurd amount of item stock, he remains in his room for muscle training till he reaches the max level and fights slimes at full power just to stay on the safe side." – MAL News
First Impression:
I'm really curious as to how the story will progress. The only thing I can really pinpoint is that the main character will be overpowering and the running gag of the show…
OK, WOW, BIG CUTIE ALERT.
Ah-ha! It's hero summoning time! The art style so far reminds me of studio Trigger, and more specifically their Kill la Kill art and animation…which might prove interesting later on in the show.
Well….that wasn't what I expected LOL!
You know if KonoSuba and Tate no Yuusha had a baby…it would probably be something like this. The expressionless face that Seiya always has and the overdramatic reactions from Ristarte give this a nice push and pull type of reactions.
Recommendation:
NO
I like Isekai's, and a lot of anime fans do too, but there's something that's missing in this show that I can't quite put my finger on at the moment. Also as a gamer, stocking up on supplies and being cautious is great (especially when you're playing a game like Dark Souls…) but Seiya's cautiousness gets to the point of annoyance. Using five special moves on a slime that has single-digit stats? Now that's just wasteful… So I'm not recommending this one just because I don't know where this one will end up.
---
If you enjoyed this post, please consider buying me a
Or if you want to be on my Patrons page, you can become one on my