Houkago Teibou Nisshi (First Impression)
---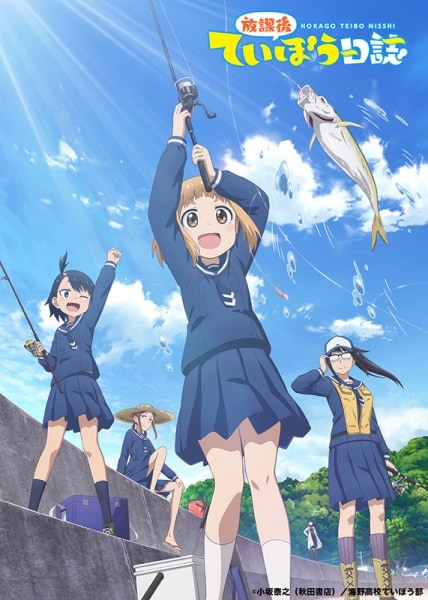 Studios:

 Doga Kobo

Source:

 Manga
Genres: Slice of Life, Comedy, School, Seinen
Synopsis: "Hina is an indoor-oriented girl who likes crafts and moves to a seaside town to continue with her high school education. She meets upperclassman Kuroiwa as she walks along an embankment and joins the mysterious "Breakwater Club." Hina dislikes sea creatures, but she fishes with her fellow club members and eats their catches. She gradually starts to appreciate the appeal of the ocean." -ANN
First Impression:
As a big fan of fishing and anime, of course I got really curious about this show! On the surface, it feels like CGDCT-type show and I'm all for it!
The art is great so far, I really love the scenery of the country-side. And I love the fact that I can tell the different types of fish throughout the episode. The attention to detail is quite nice!
Ah "forced to join the weird club" scenario. This is going to be a really funny show!
I SPY WITH MY LITTLE EYE, BEST GIRL ALERT.
I loved this moment in the episode! The surprise and shock of feeling the first bite on your line and then the fascination that comes with reeling the fish out of the water is a wonderful experience and it's captured pretty well!
First Impression:
YES
Houkago Teibou Nisshi is an easy show and safe bet for the season. It's fun, light-hearted, and something that is much needed while we're all inside and quarantining! If you like cute girls doing cute stuff type of shows then this is the one for you!
---
If you enjoyed this post, please consider buying me a
Or if you want to be on my Patrons page, you can become one on my