Itai no wa Iya nano de Bougyoryoku ni Kyokufuri Shitai to Omoimasu. [Review]
---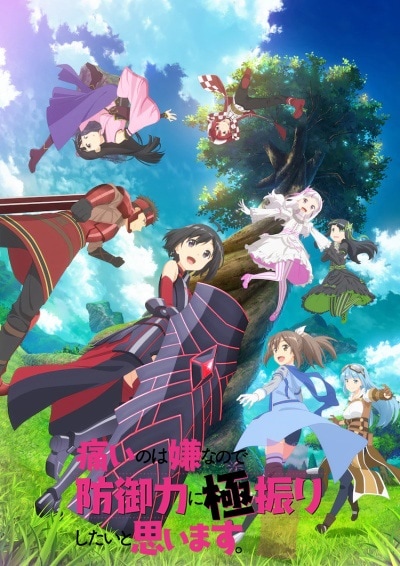 Studios:

 Silver Link.

Source:

 Light novel

Genres:

 Action, Sci-Fi, Adventure, Comedy, Fantasy
Synopsis: "Kaede Honjō is invited by her friend Risa Shiramine to play a virtual reality MMO game with her. While Kaede doesn't dislike games, what she really, truly dislikes is being in pain. She creates a character named Maple, and decides to put all her points in VIT to minimize pain. As a result, she moves slowly, can't use magic, and even a rabbit can get the best of her. But as it turns out, she acquires a skill known as "Absolute Defense" as a result of her pumping points into VIT, as well as a "Counter Skill" that works against special moves. Now, with her ability to nullify all damage, she goes on adventures." – Anime News Network
Story:
VRMMOs, a term, we as anime fans, have begun to know too well! But stay with me as this isn't your typical Virtual Reality Death Game! In fact, it's quite the opposite! The idea of virtual reality replicating reality itself, is starting to become a numbing plot point. Itai no wa Iya nano de Bougyoryoku ni Kyokufuri Shitai to Omoimasu, or BOFURI for short, sticks with the definitive line between reality and virtual reality (and let's just say the virtual reality stretches as far as your imagination can go lol). The show is upbeat and energetic with Maple and her friend participating in events and just enjoying their time in NewWorld Online. A pretty standard show until you factor in Maple's overwhelming abilities, then it becomes both cute and terrifying at the same time. This girl is indestructible and don't you think otherwise! The selling point of this entire show? The reactions that everyone to Maple, it's priceless Every. Single. Time.
Artwork & Animation:
BOFURI's art and animation shines with its characters. The designs translate really well from the light novel to the anime screen. And of course, with great power, comes great animation (is that how the saying goes?) as each new ability is shown in an extremely flashy manner. Those scenes were the most memorable (and for good reason!) and my personal favorite throughout the show. The shockwaves, movements, laser beams (yup, you read that right) were all meticulously done, though that did also create a higher expectation for the quality of the show overall, which didn't delivered as I would've liked.
Character(s):
The charm of BOFURI is, in fact, Maple's existence. Her eccentricity is infectious and eventually spreads to the other members of her guild. But that eccentricity makes for an interesting cast of characters, especially when you compare them with the rest of the more logical characters in the show. It's a fun dynamic that's hard to get tired of! I think Maple Tree's overall development is my favorite as they went from "MAPLE HOW DID YOU-" to "Oh…yes…I'm not even surprised anymore…".
Sound (OST & Voice Acting):
Personally, I wasn't too invested in the soundtrack. It felt like the soundtrack is a representation of Maple's character and doesn't help the ground the show in the world of NewWorld Online. For example, we could switch the show's setting from this VR fantasy world to a sci-fi setting with guns and shields, the soundtrack wouldn't feel out of place. I, personally, would've liked to see the setting influence more of the instrument choices or sounds to tie everything together.
Enjoyment:
I was surprised at how much aI enjoyed the show! The Maple's power just kept getting stranger and more powerful every episode and I kept wanting to see more! And of course, the second season has already been announced so it's just a waiting game now!
Overall: Score
8
BOFURI is the type of show where ANYTHING can happen and that's really what makes the show so charming. Maple's innocent nature paired with her world-ending powers…is quite the entertaining combination!
---
Best Girl: Kasumi
While I think all of the girls are great, Kasumi's samurai attitude and abilities had hooked the moment she showed up on the screen. I also love her reactions the most when it comes to revealing Maple's new abilities. Her cool facade is stripped away into pure dumbfoundedness is fantastic every time I see it lol.
---
If you enjoyed this post, please consider buying me a
Or if you want to be on my Patrons page, you can become one on my