Kuma Kuma Kuma Bear (First Impression)
---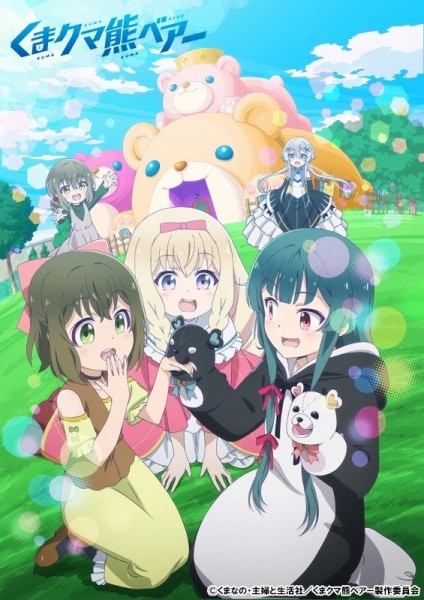 Studios: EMT Squared
Source: Light novel
Genres: Adventure, Comedy, Fantasy
Synopsis: "Fifteen-year-old Yuna prefers staying home and obsessively playing her favorite VRMMO to doing anything else, including going to school. When a strange new update gives her a one-of-a-kind bear outfit that comes with overpowered abilities, Yuna is torn: the outfit is unbearably cute, but too embarrassing to wear in-game. But then she suddenly finds herself transported into the world of the game, facing down monsters and magic for real, and the bear suit becomes the best weapon she has!"

-Seven Seas Entertainment
First Impression:
There's a charm to really cute characters that can also obliterate anything in their path. From the PV it looks like it might be even cuter than BOFURI! Let's dive into it!
This slideshow requires JavaScript.
Good news and bad news from this first scene…which do you want to hear first? OK, bad news first…looks like the artwork and animation will a little rough through the show, clear signs are the extremely zoomed in face of the boy and the minimal amount of background character details. Maybe some parts are simplified so that the more intense or important can get a big up in animation but as of right now the standard for the base animation is as basic as it can get. Good news, Yuna is just as cute as I imagined her to be!
I like that there's no set tone, it's a wide variety of colors that help set in the mood throughout the show. I also really like all of the patterns and brushstrokes in the background, it gives it a nice punch aside from Yuna's adorable bear onesie (I seriously can't get over it…WHERE CAN I GET ONE?!). So looks like there are win and losses with the art, up to you to how much you can tolerate. I really enjoy it so far!
This slideshow requires JavaScript.
I'm curious as to how her bear onsie actually works, are there any drawbacks at all? Can she really just attack with anything she can think of?! That's a terrifyingly dangerous onsie…I WANT IT. Also keep in mind that this episode takes place later in the series (approx. chapters 24-27 in the manga, not sure where in the light novel…), which would explain the abrupt introductions and going straight into the action with minimal context. I would assume that starting from next episode it'll slow down and explain things from the beginning.
Recommendation:
NO
For the majority of anime fans, I don't think this is worth the time while there are so many other better shows this season. The art is OK and the story is cute but not something that you can easily invest yourself into. This show has is aimed towards a certain audience (me I'm audience) and will not be everyone's cup of tea. I do enjoy the cuteness of the show and of course the bear theme! I'll be continuing but for others…I would just suggest to pass.
---
If you enjoyed this post, please consider buying me a
Or if you want to be on my Patrons page, you can become one on my