Ore wo Suki nano wa Omae dake ka yo [Review]
---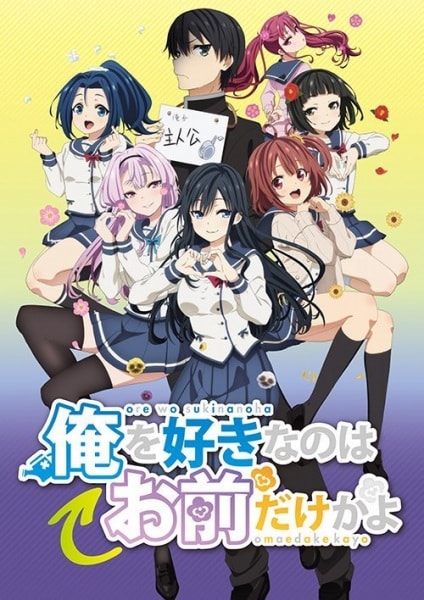 Studios: Barnum Studio, Connect

Source:

 Light novel

Genres:

 Comedy, Romance, School
Synopsis: "Amatsuyu Kirasagi is invited out alone by the cool beauty upperclassman Cosmos and his childhood friend Himawari. Expecting to hear their confessions, he triumphantly goes to meet each of them in turn. But Cosmos and Himawari both instead confess to Amatsuyu that they like his friend. Amatsuyu fights this lonely battle, but there is another girl who is looking at him. She is a gloomy girl with glasses and braids. Amatsuyu finds that he hates her, because she's always turning her sharp tongue only on him and finding enjoyment in his troubles. But it turns out that she's the only one who actually does like him." – Ore wo Suki nano wa Omae dake ka yo (manga)
Story:
There is no greater shock than going on two different dates with two different girls that you are confident are "into you" only to find out…that they like your best friend! Ore wo Suki Nano wa Omae Dake ka yo (or OreSuki for short) was such an unexpected surprise (in more ways than one!). I thought I had gotten over my love for harem anime because after you've seen a few…they start to become cookie cutter and that's no fun. OreSuki's elaborate story telling bring a new and fresh take on the harem genre bringing Joro up as what I like to call "an unintentional protagonist". This type of story can be somewhat similar to OreGairu's Hikki case but handled in a more direct and satisfying manner. And last but not least, don't forget the bench of confession! Bench-chan really created a name for herself as a high quality gag, if you're curious on what she's about…I suggest giving this show a try!
This slideshow requires JavaScript.
Note: The story concludes in the OVA [Ore wo Suki nano wa Omae dake ka yo: Oretachi no Game Set] (which contains episodes 13-15) so please take time to watch the OVA and see how everything ends! And the light novel has a different ending compared to the anime so if you need more OreSuki go check out the light novel!
Artwork & Animation:
Alright, as much as I love this show and want to give it that 10/10 which I hardly give out anymore, I just can't defend the rough art throughout the show. While it isn't terrible, it isn't great either. Let's talk about what didn't work for the show first. The overall animation throughout the show wasn't great, some of the character movements felt stiff and there are a number of weird angles and that warped the character's facial expression. Not great but doesn't distract too much from the concept of the show. NOW LET'S TALK ABOUT WHAT DID WORK. Have you seen the character designs!? I really can't get enough of them, I love the style and the color palette for each of the characters and those style even translate to aesthetic background (pictured below) for those special moments throughout the show as well! And we can't forget about that the facial expressions and reactions (WHEN DONE RIGHT) were hilarious! There are a lot of anime style references if you pay close enough attention and know your anime, it will get you laughing in no time!
This slideshow requires JavaScript.
Character(s):
OreSuki's uniqueness comes from its complex cast of characters. On one hand you have Joro's conflicting personalities which is funny in of itself when you're able to see them side by side, and on the other you have the calculating Pansy and her scheme, which may bode ill will for Joro initially but typically pays off at the end. The other pieces of the puzzle are Himawari, Cosmos, and Sun-chan which fill in our childhood friend, perfect student council president, and jock best friend character tropes. While these three sound plain on paper, they're hardly just those tropes as they have their own unique quirks about them. As the story progresses there are more characters that spice up the interesting dynamic between our main cast, taking the both the emotional and comedic elements to another level.
Sound (OST & Voice Acting):
With such a stellar voice acting cast, there's no surprise the character are as lively and interesting as they are! The voice acting took the show up a notch and really brought out the comedy of the show. The soundtrack itself has a quite a bit of quirks that are quite interesting. A number of famous references make their way into a track list including a piece that sounds eerily familiar to "The Imperial March" from Star Wars, which is also Bench-chan's theme song (boss music?) by the way. The rest of the track list is as sporadic as the show's characters ranging from classical-like pieces to glitch hop and even math rock?! It's a funky track list have identifiable to the general public and the other half is for the hardcore music enthusiast (like myself). Definitely one of the more unique soundtracks I've heard in while, not to mention the soundtrack itself is broken into 5 CDs each with a character song with one of the heroines.
Enjoyment:
For those of you that already read my Top Ten anime of 2019 list OreSuki is one of my favorite shows of all time. The comedic timing, the wonderful designs, the interesting dynamic between all of the characters blend really well into a story that will keep you invested from beginning to end.
Overall: Score
9
I've seen my fair share of harem anime throughout the years…but never has a show made me so invested in the characters and the development in the show as much as OreSuki. From its wonderful characters, to the unpredictable twists and turns I couldn't get enough of this show! It's a must watch for romantic comedy lovers!
---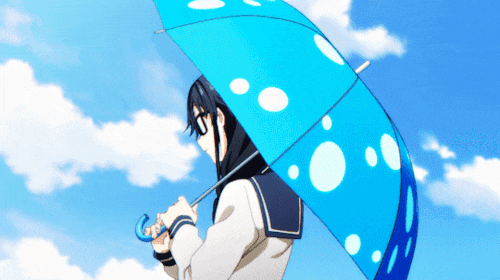 Best Girl: Sanshokuin, Sumireko (Pansy)
From her condescending tone and habit of teasing Joro whenever the opportunity arises, Pansy never fails to make the story more exciting! Though in the last half of the show she becomes quite timid, the more sides of Pansy that we get to see on screen the harder it is to choose someone else!
Honorable Mention: Bench-chan
I thought really hard about whether or not to include Bench-chan in this but after lot of internal debate, I decided too. Never in anime history has a bench (with its glossy white finish and shiny gold armrests and legs) held so much authority and power. Bench-chan can turn the situation up on its head in an instant and you'll never see it coming. She can also be shipped via Arazin in no time flat (how convenient!).
---
Thank for reading and if you enjoyed this post, please consider buying me a
Or if you want to be on my Patrons page (to support me and this website), you can become one on my