Mystery Blogger Award! (9-16-20)
Today a little notification brought a big smile to my face in the midst of a stressful 8-hour work day. Thank you Annie for the nomination! It's always fun to take a break from serious writing and just talk about things that come to my mind like these posts! So thank you again! *Pssst check out her blog, because it's aesthetically pleasing and full of wonderful content!*
Rules
Display the award logo on your blog.
Thank the blogger who nominated you and provide a link to their blog.
Mention Okoto Enigma, the creator of the award.
Tell your readers 3 things about yourself.
Answer 5 questions from the nominee.
Nominate 10 – 20 bloggers.
Notify your nominees by leaving a comment on their blog.
Ask your nominees 5 questions of your choice, including 1 weird or funny question.
Share the link to your best post.
---
Three Things about me:
I listen to a pretty wide range of music…My music library consists of KPop, EDM, Hip hop, Rock, Classical, movie soundtracks, and even country (plus more that I can't list off the top of my head)!
I'm currently working on a 5 track EP that I plan on putting on spotify!
My favorite anime of all time is Gintama
---
Annie's Questions:
1. What type of pizza would you be?
Well in this case you are what you eat right? I would either be "supreme" pizza with a lot of toppings…or (dare I say it?) PINEAPPLE PIZZA! Now that I think about it…I probably eat too much pizza than I should…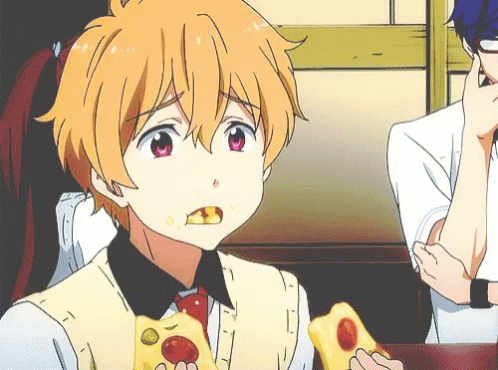 2. If you made an anime, manga, show, movie, or game, what would you title it?
Oh that's an interesting question! I would imagine I would name it something that relates to the story…so it's kinda tricky to answer right away. I am currently working on a small game project that I haven't really announced yet (since it's still very early in development…) but I guess I can spill the beans on the title :D.
A White Room
3. If you were in a movie or drama, what kind of character would you want to play and why? (e.g. the protagonist, the antagonist, the best friend, the love interest, etc.)
The comic relief that's also the character with the most profound quotes in the movie! At least that's what I aspire to be! If you know how Gin (Gintama) is, that's my goal right there!
4. What position would you want to be in a Kpop group or band?
Oh I always wanted be the rapper/dancer of the group similar to Lisa (BlackPink) or RM (BTS)! They are my favorite of the groups if that wasn't obvious already!
5. Recommend me a song from your favorite artist.
I've been addicted to Dabin's new album lately! And he just released the acoustic version of the album and it's brilliant! My recommendation is Alive (Acoustic)!
---
Nominations:
Krystallina | A Nerdy Perspective | Karandi | Lynn Sheridan | Crimson | Nikita Chanda | Celestial Sparkles | AnnikkiRose | Yon Nyan (BiblioNyan) | EggsSandwich04
---
My Questions:
What's an anime that you think is really underrated or not talked about often?
What's been keeping you busy through this world wide quarantine?
If you were randomly through into an anime world, what genre would you want to be in and why?
Top 3 favorite snacks?
(I really like this question so I'm going to reuse it, hope you don't mind Annie!) Recommend me a song from your favorite artist!
---
BEST POSTS
---
And that's a wrap! Thank you Annie again for the nomination! It was fun answering your questions!