Sword Art Online: Alicization [Review]
---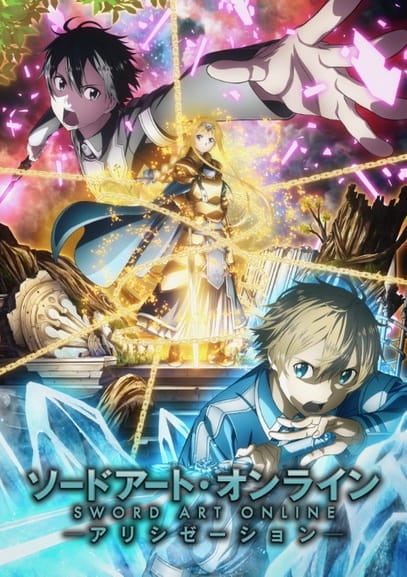 "Where…am I…?" Before he knows it, Kirito has made a full-dive into an epic, fantasy-like virtual world. With only a murky recollection of what happened right before he logged in, he starts to wander around, searching for clues. He comes upon an enormous, pitch dark tree (the Gigas Cedar), where he encounters a boy. "My name is Eugeo. Nice to meet you, Kirito." Although he is supposedly a resident of the virtual world – an NPC – the boy shows the same array of emotions as any human being. As Kirito bonds with Eugeo, he continues to search for a way to log out of this world. Meanwhile, he remembers a certain memory deep down within him. He remembers racing through the mountains with Eugeo as a child… A memory that he should not have in the first place. And in this memory, he sees someone other than Eugeo, a young blond girl. Her name is Alice. And it is a name that must never be forgotten…" -Aniplex USA
---
By now, most of you already know of Sword Art Online and why not?
An incredible story with plausible technology makes a fan dream of being about to play VRMMORPGs in real life
!
Alicization is the latest piece of the story and focuses on Kirito (not me LOL), and his interactions with fluclights
. The most successful season of Sword Art Online to date.
There's a lot of story elements seen in the story that help tie the story together compared to the previous seasons
. With a huge cliff hanger at the end and another season already announced.
One of the main downfalls of the show is the animation. While I love the art of SAO, the animation leaves a lot to
be desired
.
Cleaning up things like proportions and visibility of body parts in fights scene make the difference and it Alicization doesn't quite get it right
. As for the visualization from the light novel to anime,
I think
they hit the nail on the head. Beautiful scenery and settings that brings the story to life.
While Kirito more or less stays pretty static throughout the show, the other characters that he interacts with the inside of the Soul Translator get a large amount of development as a way to introduce them to this already well-known story
. Eugeo and Alice getting the bulk of the development and the others getting some here and there.
Sound (OST & Voice Acting):
As any other Sword Art Online soundtrack, Alicization is also a wonderful composition not only creating new sounds to embody this new world but bringing back familiar melodies to bring back the nostalgia of the previous seasons
.
I felt like this is the first well done Sword Art Online season so far.
The way the character and the story develop in a continuous manner while also keeping track of things outside of the virtual world
. The pacing is well kept and I'm excited to see what's in store for us in the net season! Sword Art Online: War of the Underworld is set to air this Fall (October 2019).
Sword Art Online: Alicization is the most complete season of the entire series to date.
The composition, writing, art, and both character and story development are well thought out and create this world that we can
be immersed
in
. And with the next part of the story already confirmed for this fall (October 2019), it'd be hard not to
be excited
!
---
An easy pick if you ask me, while Asuna is great she hardly has any screen time in this show. Alice,
on the other hand
, becomes the main focus and whole point of the story, or so I would like to believe. There's something more going on with Alice as well as the Underworld but I'll save it until after the second half is over.