Isekai Quartet [Review]
---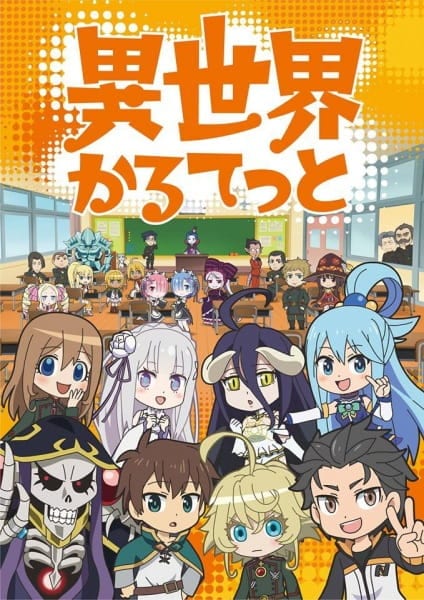 Studios:

 Studio PuYUKAI

Source:

 Original

Genres:

 Comedy, Parody, Fantasy
Synopsis: "A mysterious switch appeared one day. Upon pressing it, they were sent to a different alternative world!! There are also characters from other alternative worlds gathered together…!?" – Myanimelist
---
Story:
While there isn't much a story for Isekai Quartet as it's much more of a fun anime with characters that we all know and love. Featuring characters from Konosuba, Overlord, Youjo Senki, and Re:Zero, creates an interesting juxtaposition in the show. It was really fun seeing all the character interact with each other.
Artwork & Animation:
The artwork and animation are simple and straight forward, using only chibi versions of the characters. Using all vector animations creates a more fluid experience with the Chibi character designs makes for a cute and simple show.
Character(s):
There's really no character development whatsoever, but that's the nature to side stories like this. It was interesting to see the interactions that the personalities of well-known shows come together.
Sound (OST & Voice Acting):
The soundtrack itself is straight forward, using simple songs as well as certain tracks from the four anime that were featured in the show.
Enjoyment:
Honestly, I had a good time watching this and while I don't contribute to the original stories of each of the shows. It was fun to see the characters go to school, as the stories that they come from do get hectic from time to time.
Overall: Score 8
A fun side stories featuring your favorite Isekai characters from Overlord, Konosuba, Youjo Senki, and Re:Zero in chibi form!
…and if you haven't seen some (or any) of these shows my reviews of each are below!
Overlord (3 Seasons)
Kono Subarashii Sekai ni Shukufuku wo! (2 seasons [3rd season announced!])
Youjo Senki (1 Season + Movie)
Re: Zero kara Hajimeru Isekai Seikatsu (1 Season [but Season 2 has been announced!])
---
Best Girl: Albedo
Wow with such a big star cast this was a difficult one, but I usually let the girl that made me laugh the most win! Albedo is, by far, the funniest character in the show.
---
If you enjoyed this post, please consider buying me a Ko-fi!
Or if you want to be on my Patrons page, you can become one on my Patreon!