Dr. Stone [Review]
---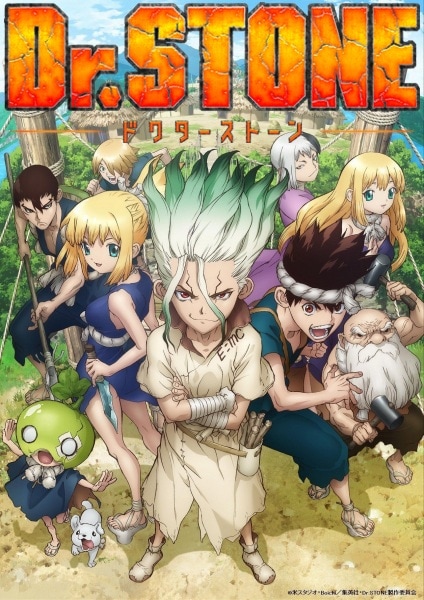 Source Material: Manga
Studio: TMS Entertainment

Genres:

 Sci-Fi, Adventure, Shounen
Synopsis: "One fateful day, all of humanity was petrified by a blinding flash of light. After several millennia, high schooler, Taiju awakens and finds himself lost in a world of statues. However, he's not alone! His science-loving friend Senku's been up and running for a few months and he's got a grand plan in mind—to kickstart civilization with the power of science!" – Viz Media
Story:
Being heavily promoted by CrunchyRoll, I thought that Dr. Stone would just be one of those shows that would get your attention in the first few episodes and then trail off. Oh how wrong I was. Dr. Stone is one of the most exhilarating shows that came out this year (and that's saying a lot as the year comes to a close! The science behind (pun fully intended) is so well done. The modern concepts paired primitive construction creates both predictability and unpredictability which is a great dynamic throughout the story. I think the element that drew me into Dr. Stone the most was this sort of sand box type of plot, where anything is possible and anything can happen. There isn't one way to do something and makes the show "10 billion percent" times more exciting to watch.
Artwork & Animation:
Hands down two of the most intricate opening animations I've seen in a HOT minute. The animation in the show doesn't disappoint either. I love the reactions throughout the that are overly exaggerated, but create a fun contrast from the standard art we we normally see.
Exhibit A: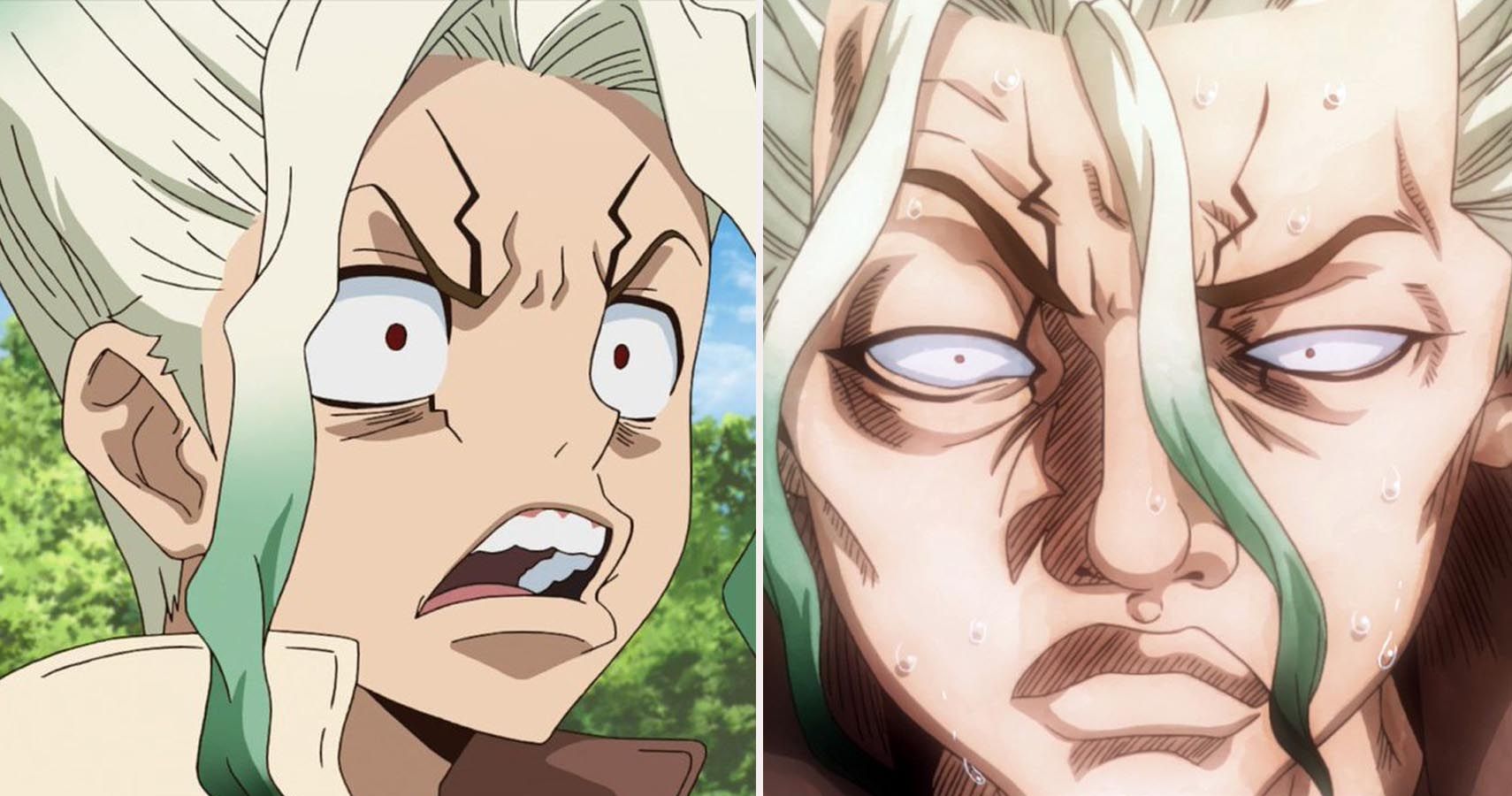 The quick change in style for the reactions is a fun twist and keeps the show interesting. The background art is brought to life with interesting landscapes (it was interesting to see the interpretation of the world after the fall of humanity) and wonderful variety of colors.
Character(s):
My favorite part of Dr. Stone are the wonderfully crafted characters. As protagonist, Senku does an excellent job of staying true to his ideals in pursuing science. But let's not forget about the incredibly intricate character that is Tsukasa. His ideals, while they may not be the ethical, strives for an ideal utopia in where are all equal and none shall be taken advantage. This in itself is an ambitious goal so you can't help but sort of see his side of the story. Main characters aside, the villagers of Ishigami Village develop wonderfully at a great place and really solidifies their spot within this enormous story.
Sound (OST & Voice Acting):
Picking the concepts from the story itself, the soundtrack features a fusion of both modern and more archaic instruments. Some songs combine orchestral pieces with hints and accents from electronic sounds, while others use instruments like bagpipes and flutes to create a more historical or primitive atmosphere. The two sounds and styles are vastly different yet are well put together and create a story on their own.
Enjoyment:
Dr. Stone has been a joy to watch since it start back in July and with the second season CONFIRMED in the after credits of the last episode, I'm extremely excited to be seeing more!
Overall: Score 10
Dr. Stone does an almost impossible task by bridging both primitive and modern cultures in a show that is all about science and survival. With dynamic artwork and animation, a well developed cast and notable antagonist, Dr. Stone stands on top of the anime this season.
---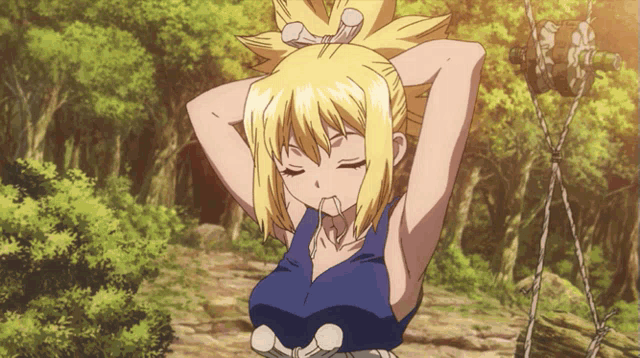 Best Girl: Kohaku
Kohaku is is first heroine that we really get to know in the show. Her dedication to her sister as well as her fighting abilities and bluntness easily made her one of my favorite characters in the show!
---
If you enjoyed this post, please consider buying me a
Or if you want to be on my Patrons page, you can become one on my