Isekai Quartet (First Impression)
---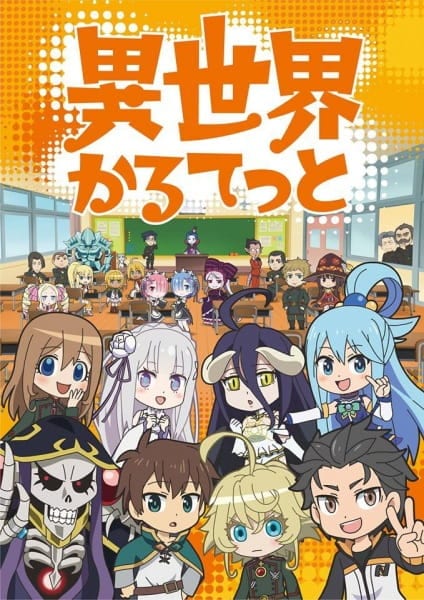 Genres:

 Comedy, Parody, Fantasy

Synopsis: "A mysterious switch appeared one day. Upon pressing it, they were sent to a different alternative world!! There are also characters from other alternative worlds gathered together…!?" – Myanimelist
First Impression:
As you can imagine, this show is purely for fun with no relationship with the original anime that are featured in the show. But that being said to really appreciate Isekai Quartet to the fullest you'll want to have seen the anime that they're referencing! Fear not, for I have these listed (and reviewed) already for your viewing pleasure!
Overlord (3 Seasons)
Kono Subarashii Sekai ni Shukufuku wo! (2 seasons)
Youjo Senki (1 Season)
Re: Zero kara Hajimeru Isekai Seikatsu (1 Season [but Season 2 has been announced!])
So after you get through all of that let's dive into Isekai Quartet! So as you can imagine, without any connection to the plot of the originals, the number of shenanigans that will happen throughout the course of the show is apparent, just within the first few minutes.
The story is straight forward and I really enjoy the little Chibi versions of all of the character (which aren't new if you've watched the specials for the featured anime). And last but not least…
PARTY TRICKS!
Recommendation:
YES
Both an easy watch and with only 12-minute episodes what else could you ask for? Also it'll be fun to see how the different character interacts with each other. Though, as I mentioned before, it's best to watch this show after gone through the original anime that are being featured here.